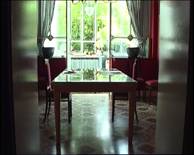 STEP IN STEP OUT #1
Taken Over > Linda Fregni Nagler
comissariado por Ilaria Gianni
Fondazione Adriano Olivetti
Roma, Via G.Zanardelli 34
26 junho 2006
Fondazione Adriano Olivetti apresenta Taken Over, o primeiro trabalho video da artista Linda Fregni Nagler.
L'artista esporrà un film di circa venti minuti in cui vengono narrati gli ultimi quattro giorni che due personaggi, un uomo e una donna, trascorrono nella loro casa - vera protagonista del cortometraggio - dalla quale saranno misteriosamente cacciati. L'opera dell'artista si pone in una zona di confine tra discipline, permettendo di osservare la dialettica arte-fotografia/cinema nella sua realizzazione concreta e di riflettere sull'osmosi formale tra immaginario statico dell'esperienza fotografica e immagine in movimento. In occasione della mostra di Linda Fregni Nagler, in cui sarà presentata anche una serie di fotografie, sarà pubblicato un catalogo edito da Produzioni NERO con testi di Ilaria Gianni, Andrea Lissoni e Cesare Pietroiusti.
Taken Over é a primeira proposta de Step in step out - comissariado por Ilaria Gianni - que tem como objectivo reflectir acerca da transformação do video como meio, utilizado tanto pela sua peculiaridade formal como um meio alternativo mais acessivel ao cinema.
Partindo do trabalho de jovens artistas, serão exploradas diferentes modalidades através das quais as singulares personalidades artisticas se apropriam da linguagem cinematográfica. Considerando o possivel intercambio entre os dois universos, procurar-se-á aprofundar o as duas linguagens... artistica e cinematográfica.
Graças à contribuição teórica de especialistas em ambas as areas, procurar-se-á compreender como se vem a utilizar, compor, recompor e integrar, num complexo sistemas de signos e intercambios, a potencialidade da imagem em movimento.
A exposição será também acompanhada duma publicação monográfica editada e produzida por
NERO
.
O proximo projecto de "Step in step out" estará previsto para Setembro de 2006 e apresentara o trabalho de Gianluca e Massimiliano De Serio.
Linda Fregni Nagler nasceu em Estocolmo em 1976. Vive e trabalha em Milão. Individual 2003 Bambini, Galleria ViaFarini, Milano. Colectivas, 2006, Metaphysics of youth, Ex Cofa, Pescara. 2005, Racconto di un luogo, Museo della Permanente, Milano; Uscita Pistoia, Spazio A Contemporanearte, Pistoia. 2004, Alta Attenzione, MIART, Milano; No Parachute, Artandgallery, Milano; Surely we will be Confused, Fondazione Antonio Ratti, con Jimmie Durham, Como. 2003, In Movimento, Galleria ViaFarini. Ha partecipato anche al XIV Festival Internazionale di Cortometraggi e Nuove Immagini Arcipelago, Roma, em 2006.
Fondazione Adriano Olivetti
Roma, Via G. Zanardelli, 34
até 9 julho 2006
www.fondazioneadrianolivetti.it