(devido 'a dificuldade de editar os texto em portugues – nao havera acentos)
Agora que estou pela finlandia posso dar noticias tambem do que por aqui se passa.
Assim: a artista do ano na finlandia 'e Heta Kuchka – que apresenta um corpo de trabalho que reflecte: diferentes papeis de genero na sociedade (como num video em que um jovem rapaz fala da experiencia de ser pai),comunicacao (trabalhos que explora as formas de "engate" - casamento - confissoes adolescentes acerca do amor), jogando sempre os papeis das suas personagens apresenta-nos tambem uma ficcao sobre a sua propria vida numa tentativa de perceber como teria sido se em vez da sua familia ter escolhido viver no pais de origem materno, a finlandia, tivessem escolhido viver no pais do pai – EUA. Numa S'erie de testemnunhos de familiares e vizinhos desses familiares nos Estado Unidos.
"Heta Kuchka (1974) works mostly in photography and video. She deals with mundane everyday matters, daily surroundings and communication between people. Many of her works are based on role plays in which she casts herself and others. She is fascinated with life's arbitrariness and her hallmark is humour, even when the subject is grave.
Heta Kuchka was born and raised in Finland but her father was from the United States and she has US citizenship. In her latest piece What if… she constructs an alternative personal past using photographs and videos. What would Heta be like had she grown up in the United States? Kuchka interviews imaginary and real relatives, neighbours and friends who talk about her life in America."
museum Meilahti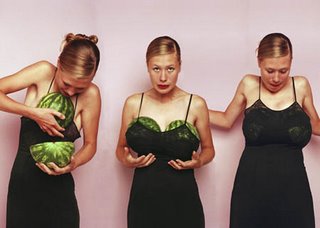 women artists 2003