estamos em contagem decrescente para a terceira série da exposição
de trabalhos em que as questões de género são fundamentais. Que papeis são estes os de feminino e masculino? qual a preponderancia que têm nas nossas vidas privadas e pública?
Desta feita na EIRA 33 - Lisboa
a Inauguração é quinta-feira 14 de Setembro às 17h
no sábado 16 de Setembro às 18h farei uma visita guiada seguida de debate (João Oliveira - moderador + convidados)
21 de Setembro - performance - Vera Mota
30 de Setembro às 18h - visita guiada (Carla Cruz e João Oliveira)
4ª a sábado, das 17h às 20h (entrada livre)
Rua Camilo Castelo Branco, 33 - 1º (edifício Bombeiros Voluntários Lisbonenses)
[Metro: Marquês de Pombal]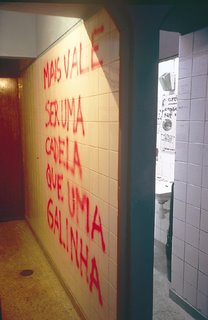 catarina carneiro de sousa
Countdown to the third edition of All My Independent Women, a show where the gender issues are predominant.
This time In Lisbon
Eira 33
opening 14th September - 17:00
Rua Camilo Castelo Branco, 33 - 1º (edifício Bombeiros Voluntários Lisbonenses)
[Metro: Marquês de Pombal]